With a background in food franchising and franchise development, Mike Ketzner became aware of the Groutsmith in the early days of its life as a home services franchise.
Intrigued by the concept from day one, it didn't take long until he got involved with a franchise of his own in the central Florida area. After launching his business, he eventually made the decision to devote himself to the new franchise full time.
"When you get the opportunity to see it firsthand, it's really amazing."
After being exposed to a wide variety of franchise companies in the past, The Groutsmith stuck out to Mike as unique for a few key reasons.
First, the low start up cost and manageable monthly overhead made it clear that there was an opportunity to not only get the business off and running, but also maintain healthy cash flow right from the start.
Second was the fact that unlike other franchises, The Groutsmith requires no investment in brick-and-mortar locations, which can be a big financial risk for those who find themselves struggling to bring in traffic to a single store location. The Groutsmith, on the other hand, is mobile and far more able to accommodate the needs of customers.
Third, after seeing what The Groutsmith's proprietary products could do himself, it didn't take long to realize that the quality of service The Groutsmith provided was far and away the obvious choice over competitors in the eyes of the customer.
The fourth big reason behind Mike's decision to move forward was his location. As he puts it, "there's a lot of tile in central Florida. When you add all of those factors together, the value proposition is very strong."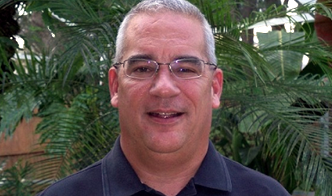 "Customer response has been great in my area."
Sticking close to The Groutsmith's business model, Mike and his team have received high praise from the customers they've worked with by staying true to the high level of quality customer service that comes with The Groutsmith name.
"When you buy a franchise, one of the things you're buying is a model that's been shown to work. If you follow it, you'll be successful."
With multiple customer satisfaction awards under his belt, Mike and his team continue to build the business in part through the positive feedback customers have expressed through online reviews and more.
"After discovery day and training, we hit the ground running. No wasted time."
For those who are brand new to the home services industry and worried they may not catch on to the work Groutsmith businesses carry out, Mike puts it all in perspective:
"It's not rocket science. We're not operating on brains, we're cleaning and sealing floors, doing showers, etc. You leave training well prepared to start doing business on your own, however you think it will work best. After training, we didn't waste time getting the word out to customers."
Even after training, Mike notes the ongoing close-knit support system as something that continues to stand out as a benefit not many other companies can offer.
"Whenever you have a question or concern, they'll reach out with answers and assistance that day. I feel very comfortable with the level of training and support we've received."
When asked what advice he'd give to those still weighing their options, Mike's advice is to look at others who provide similar services in the area.
"Competition is good in this industry––it means there's high demand." When market conditions are right, Mike says The Groutsmith's exclusive line of premium products are what put his business far ahead of the competition.
"We use all environmentally friendly products, which is huge because not only is there a demand for safe and clean products from customers, but it doesn't put workers at risk working around acids or any other toxic chemicals like that."
As for the work itself, Mike puts it simply: "it's a fun business. Customers love our products and they love our people. Not only has the business made money, it's let us go home feeling good about what you've been able to do for someone else."
Interested in learning more about our unique franchise opportunities? Click here to get started.