With a background in the world of franchising fueling her ambitions, Jan Goka knows what a successful business model looks like when she sees one. After engaging with hundreds of other brands throughout her career, she and her husband began looking for an opportunity they could succeed with themselves.
After finding The Groutsmith opportunity and reaching out to speak with a member of the corporate team, it was clear right away that this wasn't just another company promising the world––it stood in an industry poised for growth and gave its partners access to a business model that could get them on their feet and running quickly.
"The opportunity was affordable, and the return on investment was clear."
After deciding to join The Groutsmith team, it didn't take long for Jan and her team to realize the benefits of a home service business went far beyond the bottom-line.
In addition to a quickly growing business, the resoundingly positive response from customers in her community provided a whole new level of enjoyment in a business dedicated to helping people improve their homes and businesses.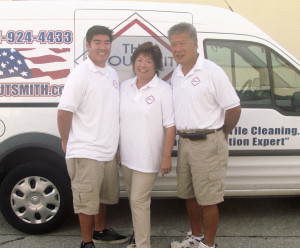 "Sometimes our customers come to us after getting quotes from other service providers. Usually they think replacing their tile and grout is the only option, then they learn about the Groutsmith and are shocked to realize they can preserve their tile by getting it restored to like-new condition. Just about everyone says the same thing: It looks like I just laid brand new tile­­––it's that good."
"They have a great on-boarding process in place."
With no prior experience in the home services industry, Jan relied on a strong onboarding process to show her exactly how the business operates.
"When we went out for discovery day, everyone was very friendly, and we were about to receive a clear overview of the business itself." After a detailed look at each of The Groutsmith's premium line of proprietary products, Jan noted the strong system of personal support was something other companies simply don't offer.
"Definitely a 'feel-good' business to own and operate."
"Enjoyment" is a word that doesn't quickly come to mind for many of us when we describe our line of work. For Jan however, the change in lifestyle afforded by owning and operating a business people truly need is something she describes as surprisingly rewarding.
"We love the Groutsmith brand. Although it can be hard work, each accomplishment is rewarding. We take pride in all aspects of what we do."
For Jan, flipping through a stack of before and after photos showing the dramatic difference The Groutsmith can make in customers' homes and businesses adds a whole new level of enjoyment to the work she and her team carries out every day.
"I wish we would have done this a long time ago. It's afforded us a different lifestyle and a true sense of reward."
When asked what advice she would give to those wondering if a Groutsmith franchise is right for them, Jan highlighted a knack for great customer service as one of the most important qualities an owner should have.
"While being business-minded is important, in this industry, you have to provide excellent customer service. To be the best you can be, your team should be a reflection of the company––people who are interested in improving themselves by helping others solve the problems they face."
Interested in learning more about our unique franchise opportunities? Click here to get started.