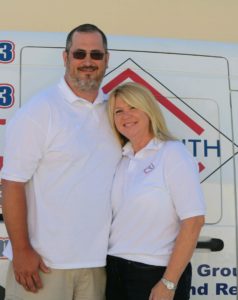 Meet Brad and Michele, a former cake delivery person and office manager turned Groutsmith franchise team in North Pittsburgh, Pennsylvania. Since starting their franchise in 2017, these co-owners have streamlined their operations, gained a reputation for being the premier grout and tile service in their area, and have taken the first steps toward scaling up. This is their success story.
Quick Summary:
---
Brad Young and Michele Morrow had no business ownership experience when a relative who owned a Groutsmith franchise encouraged them to consider the opportunity.

Knowing they were prepared financially and ready to go through the training, Brad and Michele were struck by the how family-orientated the business was. The support system offered by other franchise owners around the country was a major benefit since neither had prior experience.

A lack of competition for dedicated grout and tile service providers gave them a unique opportunity to be the premier provider in their area.

Now a year into their business, Brad and Michele feel it fits nicely with each person's strengths, even without having had any prior experience. Brad manages their technicians and estimates while Michelle oversees the admin tasks back at their home office.

While their business is only about a year old, the business is poised to grow significantly as they continue to scale up.
---
Read the full story, packed with Brad and Michele's own words below.
From cake delivery to respected home services professional
Brad and Michele are perfect examples of how The Groutsmith offers something for everyone regardless of prior experience or expertise. Before becoming Groutsmith franchise owners, Brad was a former cake delivery person and car salesman. Michele was a professional office manager. Both found a way to apply their diverse skill sets as business owners.
"I delivered cakes for Little Debbie. Other than that, I sold cars for a couple years, but that's pretty much my background. As a delivery person, I had to schedule when I was delivering to the store––it was all on me. I had to buy the products and manage reimbursement. Running my own business and being my own boss definitely transferred over to The Groutsmith. – Brad Young

"I got my associate's degree in office management. Through the years, I've managed many different office operations––it's pretty much my whole business background. With The Groutsmith, I handle the bookkeeping, schedule our appointments and book the jobs. I answer phones and call leads. Basically, I handle everything related to customer service. I'm very oriented into the office part of it, which comes from my background." – Michele Morrow
Brad and Michele's first introduction to The Groutsmith was made through Brad's step-brother, who owned a Groutsmith franchise of his own in Texas. After non-stop encouragement, Brad and Michele decided to follow his advice and head out for training.
"Brad's step-brother bought a franchise in Texas. He just kept saying, 'Brad, you've got to get out of the bread business. You need to do this.' They were running it for a good year and walked us through the steps of getting one set up. We were prepared for the price, the training, and everything." – Michele Morrow
"It felt like family from day one"
When they arrived in Florida for the two-week training program, Brad and Michele were immediately struck by the sense of family among the corporate team and other franchise owners––something that resonated with them deeply.
"As soon as we met with them, we just felt like family. They took us under their wing and told us everything we needed to get started. The main reason we like it is because we feel it's very family-oriented. We'll always feel a part of the franchise network across the United States. That's a big reason why I'd tell someone thinking about it to go for it." – Michele Morrow
Filling a local service gap
Some home services providers offer supplementary grout and tile services, but very few dedicate themselves to making it their primary focus. That's where The Groutsmith fills a major gap for homeowners and businesses. In addition to a strong support system, Brad and Michele realized they could bring a brand new kind of service to North Pittsburgh and immediately tap into a market that no other company could.
"We did some research and I felt like it was such a unique business, especially in the area where we are––up north where there's not necessarily a lot of grout and tile. There's not a lot of competition up here. We've come into a position where it's very unique. It's a different type of franchise. I've been saying to myself for years, 'Why can't I find something unique or something that no one else does?'" – Michele Morrow
Fulfilling days and a reputation built on trust and great results
It can be tough to find a business well-suited for co-owners. The Groutsmith is one of the few that figured out the formula––a fact demonstrated by the many co-owners growing their franchises around the country. For Brad and Michele, their respective talents carried right over into their work life as Groutsmith owners.
Brad's work days are spent doing what he does best: managing the technicians doing the work, doing estimates, and conducting demos for new customers. Michele typically holds down the fort back at the office––drawing on her management skills to handle scheduling, new customer inquiries, finances, and more.
"A typical day for me is meeting with my technicians every morning and going over the job with them––whether I'm sending them there or actually going with them. I'm usually on the job two to three days a week. The other days and in between, I'm usually just traveling around doing estimates. Michele will book me for estimates about every hour in between depending on where I'm traveling. I'm calling my customers and letting them know I'm on my way and meeting with clients." – Brad Young
"My day consists of answering calls, invoicing, booking, scheduling, calling leads, and doing the paperwork. I'll sometimes go out to job sites or I'll go do estimates with Brad just to keep myself familiar with what we're charging, what we're doing, and what we're seeing. I like to oversee a little bit of everything. Brad calls me the boss." – Michele Morrow
In addition to an ideal daily routine, Brad and Michele say their favorite aspect about being a Groutsmith franchise owner is the reaction from customers and the ability to extend that feeling of family to staff.
"It's a professional business and you get to believe in your products and service. We're just at the top of it but for our technicians, we've never had a complaint. We've never treated anybody badly––that's the whole family part. We just want you to feel like you can tell us anything. You can't work a day? We'll work around it. Maybe because we started with our sons and that's just how we've treated every technician that's come aboard. We just treat them like our sons and we're taking care of them. We'll give them bonuses if they're getting five-star reviews. We just want them to be treated right, just like we would want to be treated." – Michele Morrow

---
Interested in learning more about our unique franchise opportunities?
---