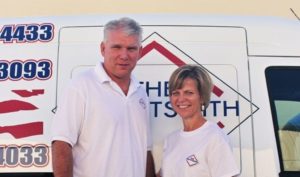 Meet Lee and Sharon Conti. Like many Groutsmith franchise owners, their story starts with a desire for something new. After finding an opportunity in The Groutsmith, the Contis stepped away from corporate life to put their skills to use as franchise owners. They haven't looked back since. This is their success story.
Quick Summary:
---
Lee and Sharon Conti came to The Groutsmith with corporate backgrounds. Lee was a seasoned operations manager while Sharon was an experienced sales professional.

When the Contis decided to leave the corporate world and put their skills to work as business owners, they decided to pursue franchising for two reasons: it provided a proven business model and a faster path to success.

The Contis chose The Groutsmith for its simplicity, family-like team, and ability to become experts in a service that's in constant demand.

Since opening their franchise in August of 2015, the Contis' Groutsmith franchise has steadily grown and turned a healthy profit, making it a viable business and rewarding employer for their team of technicians.
---
Read the full story, packed with Sharon's own words below.
Bringing their skills to a new business venue
Before buying their franchise, Lee and Sharon had spent years in corporate America. Lee was an operations manager; Sharon was in sales. Ready for something new, the Contis decided that despite having no experience owning a business, the skills they developed throughout their careers gave them a big opportunity if paired with the right business model.
"My husband has been in operations management his whole career, and I was in sales. So, we were pretty sure that if we started our own business we wouldn't fail, but we may not like whatever we chose. We said, 'the worst thing that's going happen is we're not going to like it.' So, that's kind of why we ended up doing what we did, getting our own franchise. We were just very sure that it, with his experience on his side of it, and my experience in sales and marketing, we could succeed."
Finding a simple franchise with a much-needed service
Instead of wasting time and money starting a business from scratch, The Contis decided to franchise so they could hit the ground running and build on the brand's success. When they first learned about The Groutsmith, it first seemed like an odd fit. Tile and grout cleaning, restoration and repair? But the more they learned about the opportunity, the more they learned the business model and skill set was incredibly simple to learn, the products were exceptional, and the service was sought-after.
"We found The Groutsmith and had a twenty-minute phone call to hear a little bit more about the business and why they're doing what they're doing. If you'd told us years ago that we would have gone into a grout business, we would have said you were crazy, because we didn't know anything about it! But, it was just meeting them on the phone and then meeting them in person that really sold it for us, and we wanted to know a lot about this very niche business. We didn't want to get into something complex. We just wanted to nail it down and be really good at one thing. That's why we chose The Groutsmith."
"Everything was straightforward and accurate."
Looking back on their onboarding experience, the Contis recount a smooth process and simple earnings forecast based on available numbers and the factors specific to how they wanted to run the business.
"Everything was straightforward and accurate. The Groutsmith shared everything with us during Discovery Day––from buying the van, to what to look for, to the cost to get it decaled, and the actual franchise fee itself. Earning projections are going vary from person to person, so I sat down and ran some basic numbers. The Groutsmith's corporate team can be a big help here. Bottom line, we didn't have any surprises."
"We were cash-flow-positive pretty quickly."
A low-cost initial fee and minimal overhead made it possible for the Contis to get their business up and running––and cash-flow-positive, quickly after getting started.
"We were cash flow positive pretty quickly. We opened on August 20th of 2015, and by the end of December, we actually were making more than we were putting out. We brought two people with us, so we were paying wages from day one. Some people looking at this won't do that. They're going to just come in it by themselves, so they wouldn't have that same burden right off the bat. We still made it work very quickly."
Surprisingly good support and appreciative customers
After getting their business up and running, the Contis found the close-knit support and feedback from customers to be much more than they expected. Both were big factors for the business in general.
"We were pleasantly surprised with the support we get from the home office. We have never, ever had an error in any order that we have ever placed with them. As a sales rep, I used to work for manufacturing facilities and my customers would call me all the time saying something was wrong with their order. We've never, ever had that happen to us. They're always so quick to make our lives easier. And I think another thing that pleasantly surprised me, is the fact that customers are so appreciative of the work that we do. You know, it's just grout and tile, but I was very surprised by the emotion that is attached to it. People just get so excited––they're like 'Oh my gosh! I like my floors better now than whenever they were new, or, 'My shower never looked this good!'"
A routine that fits everyone's skill set and lifestyle
For the Contis, one of the most refreshing aspects of owning a franchise like this is the fact that every day is different. Each person has their own role, but the setting and type of work done every day changes––something both Lee and Sharon find appealing. What's more, everyone gets to put their own skills to work for the business.
"For me, my husband, his brother, and our part-time employee in the field, it's different every day. My husband goes out and does estimates. A lot of the time, he'll get the team started on a job, then he'll leave to go do estimates, then he'll come back and meet them and make sure the customers are happy. One thing my husband has done from the very first day is show up on pretty much every job. So, I would say, maybe 18 or 19 business days out of the month, he's at that person's house and making sure that they're happy. Even if we do two jobs in a day, he'll start in the morning with the guys, and then circle back at lunchtime, and then he'll meet them at the end of the day at their other job, and just make sure the project went well. And, for me, I do a lot of networking events. I do fundraisers, too. We joined different organizations. I have to obviously do the admin things too. Marketing this month versus last month, that kind of stuff."
Satisfaction and validation from a community of customers
When asked what they like most about being Groutsmith franchise owners, Sharon boils it down into two things: satisfaction and validation. Making customers in their community happy and growing the business through word-of-mouth from one homeowner to another brings a satisfaction few other businesses can offer.
"I think it's just seeing the end result––customers being so happy. Any salesperson wants someone to come back and go, 'That was the smartest thing I did, buying from you.' So, that's how I feel about it. I just like it when I'm at an event and someone comes up to me and says, 'Your husband did my floors a year and a half ago, and my gosh, that was the best investment I ever made.' So, that's what I like most about it. Satisfaction and validation."

---
Interested in learning more about our unique franchise opportunities?
---