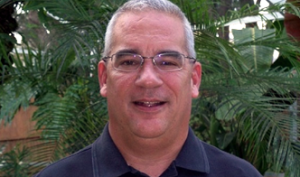 Meet Mike Ketzner, a former real estate executive and franchise broker who, after helping others start successful businesses with The Groutsmith, became a franchise owner himself in 2011. This year, Mike's business is projected to do $1 million in sales. This is his success story.
Quick Summary:
---
With a background in management as a real estate executive, Mike wanted to escape the corporate life and find something more fulfilling. He first became a franchise broker, helping others find business opportunities right for them.

Mike opened his own Groutsmith franchise in 2011 after getting to know the business and seeing others succeed as franchisees.

Even though he did not have any experience in grout and tile service, Mike and his team came out of the two-week training session fully prepared to follow the proven process The Groutsmith laid out for them. Mike sums this up best in his own words: "I've been a franchise broker so I can say this––if you listen and follow the business model, you will do well."

When asked about what he likes most about The Groutsmith, Mike points out the low costs, simple business model, "cadillac" products, and the constant need for grout and tile service. "Most importantly," he says is the great feedback he gets from customers who often send him photos and refer his business to friends and family. "If you get positive feedback, your people feel good about what they do. It's not rocket science, and you can make good money."

Since buying the franchise in 2011, Mike has expanded into a second territory and expects to do $1 million in sales by the end of 2018.
---
Read the full story, packed with Mike's own words below.
Stepping off the corporate ladder for something more fulfilling
Like many of us, Mike worked several jobs before landing in his role as a franchise owner. After spending years in the corporate world, he turned to franchising as a way to work for himself doing something more fulfilling and without having to start a business from scratch.
"Most of my background was in middle and executive level sales and sales management. I have experience in the food industry as a middle manager, as well as franchise development. I was a regional vice president for a real estate company. After that I became a franchise broker. I bought my own license and was a broker for two and a half years. And that's how I learned about The Groutsmith."
Mike first connected with The Groutsmith as a franchise broker. After learning the business model and value proposition inside and out by helping others start their own franchises, he bought one himself, turning all of his attention to growing his grout and tile business in Orlando, Florida.
"I was a successful franchise broker, so I got to know the concept and the value proposition of The Groutsmith very well. With such a strong value proposition, it got me interested and ultimately I purchased."
Hitting the ground running with a simple model to follow
When thinking back on the first steps of becoming an owner with The Groutsmith, Mike calls out two important factors that helped him succeed early on: accurate start-up costs and a solid business model with processes he followed closely––even without any prior grout and tile experience.
"Everything they tell you is accurate. With franchising, some folks think they know or can do something better. And they usually end up struggling. But if you follow the model and listen, there have not been any surprises to me in this business."
With a simple model to follow, Mike quickly hired a small staff, got them trained, and saw positive cash flow with sustained growth year over year.
"We followed The Groutsmith's advertising recommendations right out of the gate. I sent one person to training. Quickly within another week or two I hired another person and we cash-flowed right away. There is always a ramp-up of revenue and cash flow, but we never had to go into our pockets again. Every year I've probably grown this business 15 to 18 percent."
Diving deeper into the quality of training, especially given no prior direct experience, Mike says a big chunk of his success comes from following the model that was clearly laid out for him.
"We hired somebody as a lead tech to do the tile and day-to-day work, and he spent two weeks in the market learning the process. I spent a week learning how to estimate jobs, do pricing, and just reinforce the value proposition. I will say this, and I've been a franchise broker so I can say this––if you listen and follow the business model you will do well. Some folks buy a franchise and then try to change things and they can run into trouble. Everything I've seen and everything I've experienced, is as The Groutsmith has indicated."
The simple, "no-surprises" model of The Groutsmith, is what Mike says makes it perfect for someone looking to jump into a low-cost franchise with a clear pathway for success. In his experience, the value of the brand and service do a lot of the heavy-lifting when it comes to closing new business. It's just up to the owner and their teams to get there.
"As a franchise broker, I would introduce this as one of the concepts that would be good for a low-cost franchise. We're a cleaning company. We clean tile and grout. We seal grout. We do minor repairs. There's big need for that. I've followed everything from the concept to ordering the products, to making sure I advertise where I need to. I invest in the business to grow it. I advertise appropriately on vehicles. I hold my advertisers accountable for getting me leads. If you understand the value proposition when you get a qualified lead, you can normally close about 7 out of 10 people that you see."
A day in the life of one of the most successful Groutsmith franchisees
Mike is one of the first people to own a Groutsmith franchise and also one of the most successful in terms of growth. His story offers a unique look at what's possible when The Groutsmith model is followed in a lucrative market and earnings are smartly invested to achieve even more.
While every small business (even franchises) demand a lot from their owners and the teams they surround themselves with, Mike's story is a testament to the lifestyle and freedom that success with a grout and tile franchise can bring––all while enjoying the level of work being done.
For Mike, that's the freedom to spend much of his day doing what he wants at 58 years old, whether it's a project around the house, a dip in the pool, or just relaxing for a chunk of the day.
"My day might be a little different than most. I have a team of 11 people, including the folks I have in my office. And I have an estimator that took over a lot of my work when I underwent heart surgery. A typical day starts with meeting at the warehouse to see the team off. I take the paperwork back to the office, run checks to the bank, and make sure the techs have everything they need in their trucks. Then my estimator goes out on his way. At that time, I either go for a swim, or do something that I like to do. Around 3 o'clock I'm reachable in case someone needs a hand. A little later, I see how our estimating routes are running––who's booked business. I make sure everyone has what they need. Now that's my day."
Surrounding himself with a reliable team is also important to Mike. This has given him the ability to reshape his lifestyle as a franchise owner.
"I've got people that have worked with me since I've started this. And everybody pretty much knows their role. It's a good, comfortable business. And I've taken care of not only the folks in the office but the folks in the field. And carved out a nice little niche for myself."
A value proposition that customers, and the community, trusts and respects
While Mike says many customers value the fact that they simply can't get the kinds of "cadillac"quality products The Groutsmith uses, he says the value proposition is even more important. That goes for both customers and his team.
"Customer response has been great in my area. We have many customers that send us photos of the job we did. They thank us very much for making their floors look great and tell us they'll recommend us to others. In running this business like I have since 2011, we've won Angie's List Customer Service Award, and the Home Advisor Customer Service Award every year. For my team, there's real value, too. They normally work five or six hours and then they get to go home. They get home by 3 o'clock, or 4 o'clock on average––time to do a little fishing at the end of the day, or work on their favorite old vehicle or whatever they like. I've been able to keep many of the same core group of people."
"I would have done this earlier if I could have."
Looking back on his years as a Groutsmith franchise owner, Mike says he not only would have done it all again, but he would have done it even earlier if he could have.
"I just wish I would have started this earlier. I'm 58 now and I spent too much time swinging a big bat in corporate America. It was a lot of stress. If I would have done it earlier, I probably would have purchased a lot more territory and expanded into a mini little empire. It's a great franchise to buy if you like interacting with others. If you're sincere about learning the value proposition and you want to follow a business model."
"Anyone can do this—you don't need to be an expert in tile and grout."
It's rare that people who find success in business ever saw themselves where they ended up early on. That's something Mike feels everyone should keep in mind. Passions can develop over time––something he wishes anyone considering a franchise should keep in mind if they have the drive to be successful with the right plan in front of them.
"You don't need to think you need to be a tile expert or a grout expert or floor expert initially. The thing is it's not what this is. That comes with time and that work can be given to your team."

---
Interested in learning more about our unique franchise opportunities?
---