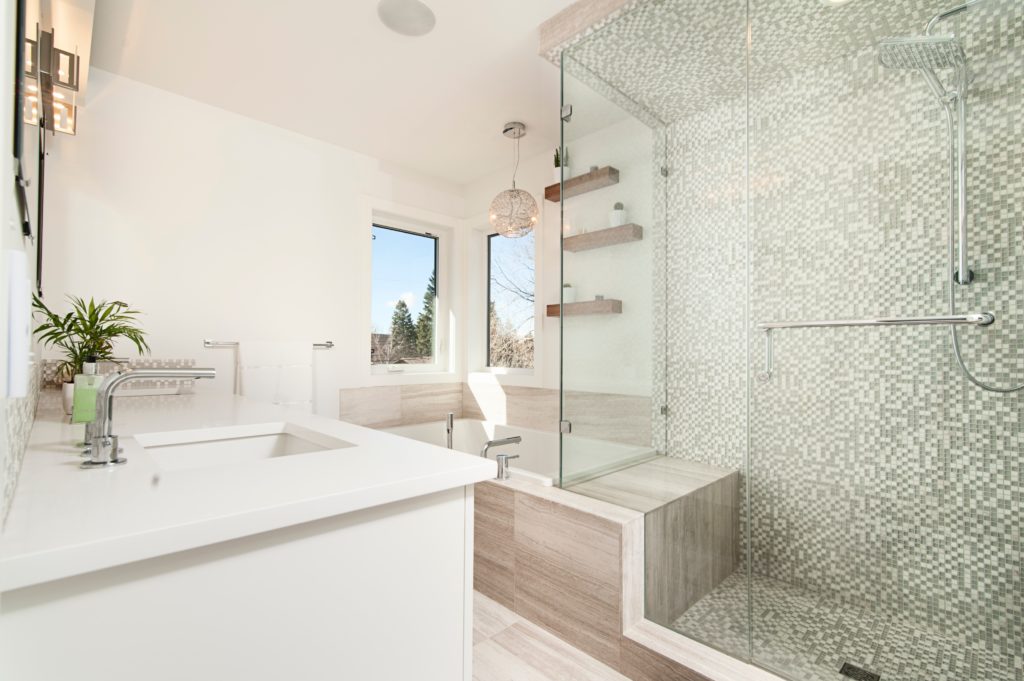 In 2008, the recession offered a painful, but important lesson for those looking to buy a franchise or start their own business: some industries are more recession-resilient than others.
While it's impossible to say any industry is 100% recession proof, many industries continued to do well and even thrive during the economic slowdown.
The recession showed us something else, too: people turn to franchising in times where the economy is strained or could likely become strained. Why? People want more control of their future with a business that comes with proven systems and support.
While the economy has rebounded significantly since 2008, it's become more unpredictable. What's more, some analysts are warning that the signs of a slowdown are starting to show up again –– painting an even more uncertain picture of the future.
If you're looking to buy a franchise that can stay strong and grow in today's volatile market, read on to learn why the home services industry (cleaning, repair, and restoration) strikes a perfect balance between being resilient to recessions while also offering an in-demand service that fetches a relatively high price tag.

Why cleaning, repair and restoration is both recession-proof and a good franchising opportunity
When looking back at the industries that did well during the recession (such as food and beverage, retail consignment, health and senior services, and home services), you'll notice a common pattern:
They all provide a good or service that fulfills a basic need in a core part of life.
It makes sense, right? Even in a bad economy, people still need to eat and drink, buy clothes, care for seniors, and keep up their homes and offices.
Now consider which of those are industries offer viable franchise opportunities –– those where buyers can get trained to become an expert prover of a high-demand, high-value service.
That list of industries becomes considerably smaller. Again, it needs to be recession proof and a good business opportunity. The cleaning, repair, and restoration industry is one of the few that strikes that perfect balance.
Here are a few reasons why:

1. Proven resilience and fast recovery after the recession
Looking back on which industries took a hit during the recession, "specialty cleaning" is one of the few in the broader category of home improvement/home services that not only stayed relatively strong during the recession but has continued to steadily recover and grow over time.
The charts below show how unlike similar industries, specialty building cleaning services survived the recession with minimal damage and have steadily rebounded since. (Note that the average salaries listed are for employees, not business owners.)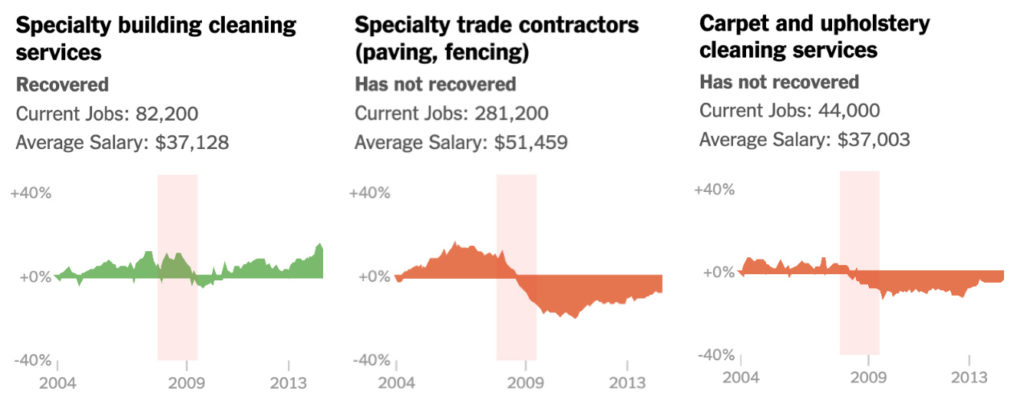 In 2010, just two years after the recession hit, cleaning franchises already accounted for six of the 10 fastest-growing franchises measured by Entrepreneur's Franchise 500®. As Entrepreneur magazine put it back then, "how can one sector expand so confidently when even traditionally aggressive franchisors have slowed?"
In fact, home cleaning, repair, and restoration franchises were set to grow even before the recession. According to a Bureau of Labor Statistics report back in 2006, the industry was expected to expand its workforce 14 percent by 2016. Thanks to a huge expansion of office and residential spaces in many parts of the country, that expectation was met and continues to grow.
2. A promising future
The future of cleaning, repair, and restoration looks bright. A study by Restoration & Remediation Magazine found that among the 151 participating home restoration providers surveyed, two-thirds said their revenues were up in 2018 and expected that to continue. Just 2 percent said they saw a decrease.
Other studies showed similarly promising findings. With the closely-related global facilities management industry expected to reach a whopping $395 billion this year, the demand for commercial cleaning is expected to increase with it. Currently, the residential cleaning service industry is growing at a compounding annual growth rate (CAGR) of 4.3% and is expected to increase to a CAGR of 6.2% by 2022, according to Allied Market Research.
3. Strong long-term drivers of growth
Unlike many other industries whose growth is shaky and unstable, the positive outlook for cleaning, repair, and restoration is supported by solid drivers of growth, such as:
More new business spaces. The more space, larger the potential client base for supportive services.


Low vacancy rates in homes and businesses. This naturally brings greater need for cleaning and upkeep services.


Higher corporate profit. This tends to lead to expanding offices, retail stores, restaurants, and malls –– all of which need support.


More high-income households in key areas of the country. More disposable income plus large residential spaces means more business and higher-price projects for those hired to clean, repair and restore them.
4. More materials that require specialty home services
One of the most important drivers of growth deserves its own section here. If you look at what parts of a home or business space that require specialty servicing, you'll see that more and more of those materials are making their way into new and existing buildings.
Take tile, for example. Tile and grout are what our Groutsmith franchisees are trained and equipped to clean, repair and restore to like-new condition. Obviously, the more tile making it into homes, the more work is almost guaranteed to come our way.
Based on the most recent numbers published by the Tile Council of North America, Inc., tile consumption in the U.S. has steadily risen every year since 2009.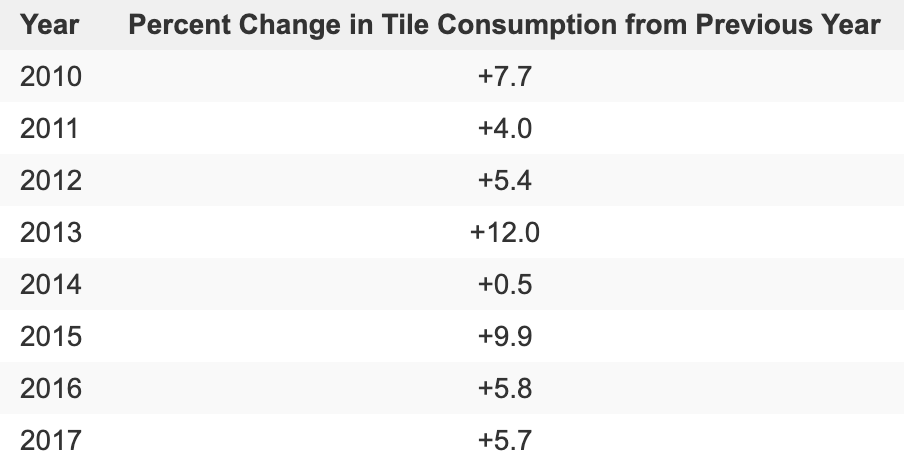 Trends like this indicate long-term viability. Sooner or later, materials like grout and tile need to be serviced. Combined with the other drivers explained above, this creates an opportunity for specialty service providers to carve out a niche by offering a world-class service that's hard to get elsewhere.
Final thoughts & Next steps
If you're considering franchise opportunities that can withstand problems in the economy, home services is one of a handful of industries that serves a basic need for home and business owners while also carrying a high price tag for specialized service. Check out our other resources below or learn more about our unique franchise opportunity and the people using it to take control over their careers all over the country.
Other helpful articles:
Want to learn more about becoming a franchise owner with a low-cost opportunity anyone can succeed with? Learn more about The Groutsmith, read a real-life success story from a Groutsmith franchise owner projecting $1 million in sales this year, and contact us to get more information and start the conversation.
Looking to learn what it's like to own a Groutsmith franchise? Get a first-hand look from eight franchisees in our free Q&A guide. Click below to download.